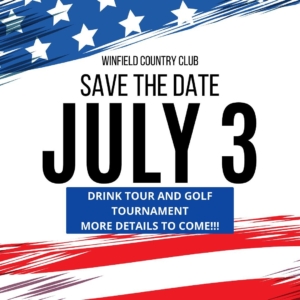 FIRECRACKER OPEN
When: Sunday July, 3rd
Time: 12:00 shotgun
Cost: $40/ team
(Guest allowed; green fee not included in entry)
Format: 2 person 6-6-6
Holes 1-6: Best Ball; Holes 7-12: Mod. Alt Shot; Holes 13-18; Scramble
Entry includes team skins game per flight.
There will also be a drink tour taking place on the golf course with 5 different locations featuring a signature cocktail or beer. The cost of the tour is $30 a person and is not included in the entry of tournament. When you arrive at a location you can receive 1 signature cocktail or 2 beers!
After the tournament stick around and enjoy some American favorites! There will be Hamburgers, Hot Dogs, Brats, Apple Pie, Root Beer Floats for both kids and adults and more! We will also have some corn hole games set up and pool games.
Fireworks will begin at dark!!